Healthline Medical Group's Urgent Care Center Offers Caring Treatment to Residents in Valley Village, CA, and the Surrounding Areas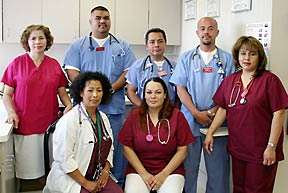 At Healthline Medical Group, we offer quality, compassionate, and affordable urgent care services to treat a variety of non-life-threatening injuries and illnesses. Not only will our experienced medical team provide you with dependable urgent care, but we will also strive to make your experience as convenient for you as possible. That's why we offer our services 365 days per year (Monday through Friday, 7 AM – 9 PM and Saturday, Sunday and Holidays, 9 AM – 5 PM) by appointment, as well as on a walk-in basis.
We Diagnose and Treat a Variety of Conditions
Our experienced physicians are able to diagnose and treat a variety of conditions at our Urgent Care Center for patients 10 years of age and older, including:
Minor burns
Rashes
Colds, coughs and sore throats
Broken bones
Ear and eye infections
Allergic reactions
Asthma
Animal and insect bites
Diabetes
Fever and flu-like symptoms
High cholesterol
Headaches
Sprains and strains
Upper and lower respiratory infections
Urinary tract infections
Back pain
Vaginal infections
Vomiting and diarrhea
STDs
We also offer other urgent care services such as X-rays, EKGs, immunizations, laboratory tests and more.
Stay in Touch with Our Convenient Communication Tool, KLARA
Our KLARA communication tool allows our patients access to our staff through text messaging. Just by sending us a text you can request a medical note, a status report, a prescription refill or a copy of a recent lab report. You can also make or change an appointment with us and we can reply to you via direct text message.
For more information about the urgent care services we provide to residents in and near Valley Village, contact Healthline Medical Group today.