Consult with an Experienced Physician at Healthline Medical Group – An Urgent Care, Occupational Health and Family Medicine Practice in Van Nuys, CA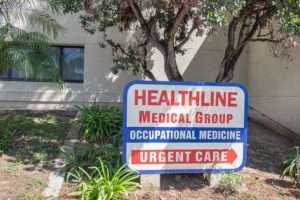 Healthline Medical Group makes it easy to consult with an experienced physician in Van Nuys, California, no matter what sort of medical concern you might have. We offer a full spectrum of services under one roof. Not only do we have a team of highly experienced physicians who specialize in urgent care, family medicine, internal medicine and occupational healthcare, but we also have physical therapists, a chiropractor, and an acupuncturist available to serve you. Should a specialist referral be necessary, we're happy to make all of the necessary arrangements, including insurance preauthorization, to help streamline the process.
An Extended Hours Clinic with Weekend and Holiday Availability
Our Van Nuys medical center is open 365 days a year, with extended morning and evening hours for your convenience. We are open from 7 AM to 9 PM Monday through Friday, and from 9 AM to 5 PM on Saturdays, Sundays and Holidays.
If you know in advance that you need to see your physician, you are welcome to make an appointment, but we also welcome walk-ins as well. We use an emergency room-inspired triage system to address our patients' needs in a timely and prioritized manner.
Patient Information
Fast and Secure Communication with Your Healthline Medical Group Physician
At Healthline, we're committed to providing the highest quality care in a convenient setting. That means being accessible when you need us the most. Not only are we open seven days a week, but our state-of-the -art Klara communication system allows you to safely and securely communicate with your physician through our website and receive a professional response in a timely manner via text messaging. Combined with our NextMD patient portal, we give our patients excellent options by which to effectively communicate with their medical providers.
To schedule an appointment with a Healthline Medical Group physician, contact us today. We also welcome walk-in patients. We'll have you seen by a healthcare provider as quickly as possible. We welcome patients 10 years of age and older, and accept most major insurance plans. Click here for more information about our practice.