Convenient Physical Therapy Available to Residents of the San Fernando Valley, CA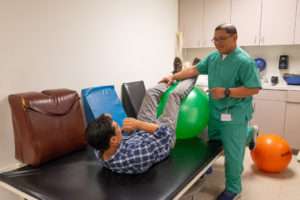 If you're looking for a convenient option for physical therapy near California's San Fernando Valley, consider Healthline Medical Group. Though we're mostly known as a trusted source for urgent care, we also offer comprehensive physical therapy services. You can visit our facility for physical therapy, acupuncture, and chiropractic services, and we see both private patients and those dealing with work-related injuries. Our goal is to relieve our patients' pain through an individualized rehabilitation program and help them restore normal function as fast as possible.
What We Offer
We perform therapy onsite and also provide our patients with exercises they can do at home. Some of the other rehabilitative services our physical therapy department can provide include:
Acupuncture
Chiropractic evaluation and treatment
Electrical stimulation
Hot/cold packs
Isometric exercises
McConnell taping
Paraffin
TENS (Transcutaneous Electrical Nerve Stimulation)
Therapeutic massage
Traction
Ultrasound
Work conditioning
Our physical therapy staff will follow up with patients after their treatment via our KLARA communication tool to check their status and answer any questions they have.
When Is Physical Therapy Needed?
Our services are designed to help individuals who are suffering from a variety of problems. Some of the reasons patients visit our facility for physical therapy include:
Reducing or eliminating pain
Avoiding surgery
Improving mobility
Recovering from a stroke
Recovering from a sports injury
Recovering from a car accident
Managing age-related issues
Visit Us Today
Our physical therapy department is available from 7:30 a.m. to 5 p.m., Monday through Friday. Contact Healthline Medical Group today if you would like additional information about the services we offer to San Fernando Valley residents.