Telemedicine Visits—a Valuable Occupational Health Resource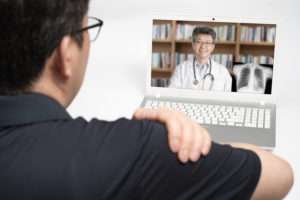 Healthline Medical Group is a trusted provider of occupational health services in the Van Nuys, California, area. To address many non-life-threatening, work-related illnesses and injuries, we now offer a telemedicine solution (Healthline Telemedicine Visits) as an alternative to a traditional, in-office consultation.
Why is telemedicine important in an occupational setting? Employees who become ill or injured on the job often face challenges in getting to and from their medical appointments. At Healthline, we are taking occupational medicine to the next level by providing a much-needed alternative to on-site visits. Through secure video-conferencing technology, we are improving access to care as well as patient outcomes while also helping employers control health care costs. Ultimately, our goal is to help sick and injured employees receive the medical care they need to recover—and return to work—as quickly as possible. Convenient access to health care services both during and after the current COVID-19 pandemic is essential in order to evaluate and return an injured worker to the workplace in the shortest period of time.
When Is It Appropriate to Use Healthline Telemedicine Visits?
Healthline Medical Group is pleased to offer telemedicine visit consultations to evaluate a variety of non-life-threatening, work-related illnesses and injuries, including:
Grade 1 and 2 sprains and strains
Tendinitis and other repetitive-use injuries
First-degree burns
Bruises and abrasions
Skin rashes
COVID-19 exposure
Bloodborne pathogen exposure
In addition to evaluating initial illnesses and injuries, we also offer telemedicine visit consultations to provide routine post-operative checks and follow-up care for certain complex conditions, such as:
Wounds and lacerations
Second-degree burns
Moderate neck and low back injuries
Significant sprains, strains and bruises
It is important to understand that the use of Healthline Telemedicine Visits is not appropriate in life-threatening situations. In the event of a true emergency involving a risk of loss of life or limb—such as chest pain, difficulty breathing, loss of consciousness or uncontrollable bleeding—we urge you to immediately call 911 or go directly to the nearest hospital emergency room.
Why Take Advantage of Healthline Telemedicine Visits?
There are many benefits to using Healthline Telemedicine Visits, including:
Faster and more efficient access to occupational medicine expertise
Immediate workplace incident reporting and early intervention
Daily availability during extended hours
Privacy and data security
Healthline Telemedicine Visits can significantly enhance an ill or injured worker's access to care. While this is always important, it is especially so in certain situations. For instance, if a manufacturing employee is injured after hours, the only other option may be a costly and time-consuming ER visit. If a driver is injured while on the road, the closest medical facility may be in a remote location. Under circumstances like these, Healthline Telemedicine Visits are a particularly advantageous resource for immediate—and trustworthy—illness and injury assessment.
In sum, our goal in offering Healthline Telemedicine Visits is to provide both employees and employers with convenient access to our occupational health experts, even at times when many other medical providers are unavailable.
Employer FAQs
What do I need to use Healthline Telemedicine Visits?
To get started, you will need:
A mobile device, tablet or computer with internet access and a webcam and microphone
The employee's email address
A completed Employer Authorization Form
How long does a Healthline Telemedicine Visit take?
The time requirement for a telemedicine visit consultation can vary depending on an employee's medical condition and individual needs. A key advantage of using Healthline Telemedicine Visits for a non-life-threatening, work-related illness or injury is that the employee will not have to waste valuable time traveling to and from a medical facility or waiting in a reception area.
When are Healthline Telemedicine Visits available?
Healthline Telemedicine Visits are available seven days per week during extended hours.
Are Healthline Telemedicine Visits secure?
Healthline Telemedicine Visits are HIPAA compliant, and all virtual visits take place via a highly secure video-conferencing platform. As always, the protection of our patients' personal information and privacy are top priorities for us.
If you'd like to learn more about Healthline Telemedicine Visits or our occupational health services, contact Healthline Medical Group in Van Nuys, CA, today.