Healthline Medical Group Offers Internal Medicine Services to Patients in Van Nuys, CA, and Surrounding Communities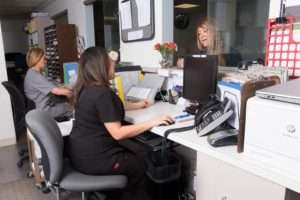 Gary I. Reyzin, MD, is Healthline Medical Group's Internal Medicine physician. Serving our patients in the greater Van Nuys, California area, Dr. Reyzin is a board-eligible physician who specializes in Internal Medicine and stays current on new developments in his field. He utilizes his skills to promote wellness and a healthy lifestyle to all of his patients and strives to return any injured workers back to their jobs in a timely manner. Dr. Reyzin joined Healthline Medical Group in 2012 with a practice emphasis on Urgent Care, Internal Medicine, Occupational Medicine and Primary Care.
Reasons to See an Internal Medicine Doctor
Doctors of Internal Medicine, also known as Internists, focus on the prevention, diagnosis and treatment of adult diseases. Internists specialize in diseases that affect most bodily systems rather than focusing on one particular area of the body. Sub-specialties of Internal Medicine include:
Cardiology
Gastroenterology
Oncology
Neurology
Internal Medicine Services
Healthline Medical Group sees patients for everything from general health examinations to the treatment of complex medical conditions. We provide the following diagnostic and preventive services as part of our Internal Medicine practice:
Mammograms and pap smears.
Colon cancer, cholesterol, vision and blood pressure screenings.
Lab tests such as blood glucose, UA dip, KOH wet smears, rapid strep and rapid viral culture tests.
X-rays and EKGs.
Immunizations such as flu shots, tetanus shots and hepatitis B vaccines.
Pulmonary function testing.
Tuberculosis testing.
In addition to the above services, we are also able to provide some common medications on site to save you time so that you can start to feel better as soon as possible.
Hours of Operation and Location
Located on the campus of Valley Presbyterian Hospital in Van Nuys, CA, we are open 365 days per year with convenient extended hours (Monday – Friday 7 AM- 9 PM and Saturday, Sunday and Holidays 9 AM – 5 PM). Healthline Medical Group is readily available for patients either by appointment or on a walk-in basis.
For more information about the Internal Medicine services we provide for patients in Van Nuys, CA, and surrounding communities, please stop by or contact Healthline Medical Group today.