Emmett A. Berg, D.O.
Medical Director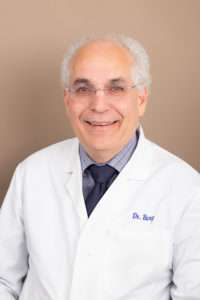 Dr. Berg has been practicing medicine for 43 years in Southern California following graduation from Michigan State University's College of Osteopathic Medicine. Dr. Berg has served on numerous hospital committees and was a district office medical consultant for the State Compensation Insurance Fund for over 20 years, performing peer review services. Dr. Berg did his post-graduate training at The Detroit Osteopathic Hospital. He is Board Certified in Family Practice. Dr. Berg joined with Dr. Barry Rosenblum  and created Healthline Medical Group in 1985. Healthline Medical Group combined Dr. Rosenblum's 40-year-old Family Medical practice (Holvey Medical Group)  with Dr. Berg's Occupational Medical Practice. In addition to practicing Occupational Medicine and Family Practice, for many years Healthline Medical Group was the only Urgent Care Center in the San Fernando Valley serving the Urgent Care needs for over 40,000 patients enrolled in the Northridge IPA Group.
Dr. Berg currently trains third and fourth-year medical students from several Osteopathic Medical Schools. Dr. Berg is a certified MRO by the MROCC and is certified to perform DOT examinations by the FMCSA. Currently, Dr. Berg is the co-medical director of Healthline Medical Group. Dr. Berg has a great interest in medical informatics and was one of the first physicians to implement an Electronic Health Record system in 2000, many years before most physicians were mandated to do so.  Dr. Berg continues to utilize information technology to improve the professionalism and management of healthcare services that Healthline Medical Group provides to our community.
Dr. Berg has worked diligently to implement a patient portal called KLARA that promotes text-based communication between patients and our providers. This communication tool is much easier for patients to use and well received by the community we serve. KLARA incorporates easy-to-use forms both in English and in Spanish to provide an exceptional communication experience for our patient population regardless of their level of comfort with advanced technology tools. Collection of the pertinent patient information in a HIPPA-secure environment helps to expedite the transmission of that data into the EHR (electronic health record system) .
Additionally, Dr. Berg implemented a digital pen technology at Healthline Medical Group referred to as NextPen. This software application was created by our electronic health record provider, NextGen. This device along with custom-designed forms both in English and Spanish which Dr. Berg developed, help improve the collection of pertinent patient information and expedites the transmission of that data into the electronic health record system. None of this technology will ever replace the doctor-patient relationship, but it has been Dr. Berg's goal to utilize the technology available to us to provide better patient care and communication. Ultimately, if Dr. Berg and his staff can spend more time with their patients and less time filling out forms and regulatory documentation, everyone will benefit.
It has always been Dr. Berg's passion to find ways to improve communication channels, in order to ultimately provide the patient with the best medical outcome. The challenge has been finding ways to select those software technology advancements that overall improve the delivery of healthcare to the patient population that we serve.
SaveSave